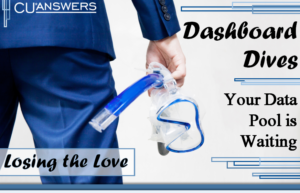 Join the Asterisk Intelligence Team for a Dashboard Dive!
Join the Asterisk Intelligence Team as they review the ACTIVE BETA CU*BASE Tool #132, our Losing the Love Dashboard.  Are you afraid you're losing too much love?  Analyze your recently closed accounts for trends and predictive behavior patterns leading up to account closure.  Analyze balance changes, reductions in product or service participation and even tiered service scoring which can be leading indicator of account closures.  Learn how to take ACTION using this dashboard and keep more of the LOVE with integrated file creation and member outreach options.
Ask, See, Act, and Profit with the aid of Asterisk Intelligence!
Thursday, March 15
3:00 PM – 4:00 PM ET
Don't forget: if you would like to help co-host one of our Dashboard Dive sessions, you can earn a $25 gift card!  Click here to learn more.
Or, click here to view summaries of our upcoming Dashboard Dive sessions.