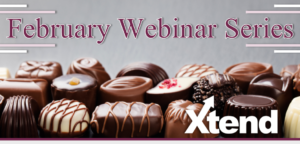 Coming Up Next Week!
Each month, Xtend offers FREE webinars focused on lending, marketing, and member service; these engaging webinars provide credit unions with helpful products, services, and industry tips to give them the leading edge.
Tuesday, February 27
2:00 PM – 2:30 PM ET
HTML eStatement Notification – Bring Your Brand into Your eStatement
Xtend presents the opportunity to turn your standard plain-text eStatement notification into an interactive, action inspiring eStatement notification.  The eStatement notification doesn't have to serve as simply a notification that your member's eStatements have been posted.  Xtend encourages you to take your marketing strategy to the next level by using this opportunity as another way to effectively communicate promotions offered by your credit union.
Join us to learn how making the switch is easy and affordable!
Thursday, March 1
11:00 AM – 11:30 AM ET
Buzz Points: Incentivize. Engage. Grow.
Do you want to create loyal members, support your community AND create a healthy bottom line?  The Buzz Points incentive-based member engagement and revenue generation platform can help you build loyalty and boost your bottom line.  By combining powerful incentives with engaging marketing, Buzz Points has proven to deliver undeniable results.
Join us to learn more about how using real-time messaging and powerful incentives can support your community and drive revenue.