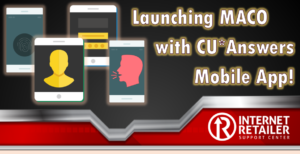 Multiple Authentication Convenience Options (otherwise known as MACO), offers members the ability to authenticate into their membership from the mobile app 2.0.  There are 4 login options available, including PIN, fingerprint, voice recognition, and facial recognition.
Join the CU*Answers Internet Retailer Support Center in learning how your credit union can launch MACO as part of your CU*Answers mobile app!  Credit unions now have the ability to begin deploying MACO, as of February 1st.  Join us for our upcoming webinar, where we will cover the member experience, requirements for your credit union to be able to offer MACO to members, pricing options, as well as how to get your credit union in the queue to launch.
Thursday, February 15
11:00 AM – 12:00 PM ET
To learn more about MACO, visit the IRSC online store!