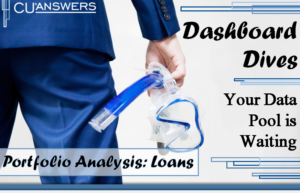 Join the Asterisk Intelligence Team for a Dashboard Dive!
CU*BASE Tool #595, our Loan Portfolio Analysis, can be used to organize your portfolio by loan category, purpose code, or security code, in order to align with your preferred reporting method.  Use this tool to view balances per category, active loan counts, and even insights into average yield.  Learn how to take ACTION using this dashboard with the integrated file creation and member outreach options.
Ask, See, Act, and Profit with the aid of Asterisk Intelligence!
Thursday, February 15
3:00 PM – 4:00 PM ET
Don't forget: if you would like to help co-host one of our Dashboard Dive sessions, you can earn a $25 gift card!  Click here to learn more.
Or, click here to view summaries of our upcoming Dashboard Dive sessions.