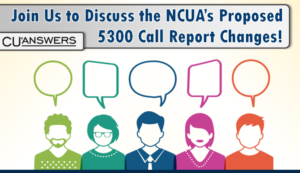 Join experts at CU*Answers for a brainstorming session to discuss the NCUA's proposed 5300 Call Report changes.  Now is the time to speak up and comment on the proposed changes!
Representing CU*Answers will be:
Keegan Daniel, VP of Professional Services, Manager of Asterisk Intelligence
Jim Vilker, VP of Professional Services, Manager of AuditLink
Danielle O'Connor, Shared Resources and Staffing (SRS) Manager
Charlie Rogers, CMS Account Executive Special Projects
Karen Sorensen, Technical Writer, Call Report Project Coordinator
Tuesday, March 20
3:00 PM – 4:00 PM ET
Check out the Kitchen page for additional information including highlights of the proposed changes, a link to provide comments to the NCUA, and an analysis of the impact to CU*BASE Call Report tools.