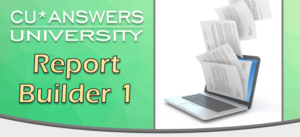 You can hardly go anywhere today without hearing about database management, warehousing, and mining. But what do these terms mean? And how can credit union employees participate in these modern concepts?
CU*BASE Report Builder uses an IBM program called 'Query', a powerful, flexible tool for mining data from your CU*BASE member data. Join Annalyn Hawkes of the CU*Answers Asterisk Intelligence team to learn about pre-defined inquiry options found throughout the CU*BASE menu system and outlining steps to create a very simple custom report.
Wednesday, March 7
10:30 AM – 12:00 PM ET
This webinar is FREE to attend!