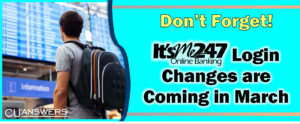 Stay On Track for March 11
Have you contacted your web developer yet to schedule your widget updates? Don't forget to reach out and get on their schedule before it's too late! Remember that on March 11, all Direct Login Widget 1.0 versions will be discontinued.
Read More About Your Next Step In the Kitchen
Your members want to hear from you! Let them know what password and visual changes to expect when logging in to online banking after the 18.03 CU*BASE release.