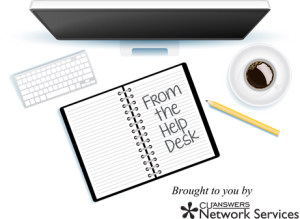 ATTENTION NETWORK SERVICES MANAGED CLIENTS
Remote Monitoring and Management System Maintenance
CU*Answers Network Services will be performing internal maintenance on the Kaseya RMM System, Saturday February 24th from 11:00 PM to Sunday February 25th at 11:00 PM ET.
We will be using this time to implement database optimization that will increase overall performance and capacity to the system.
During the maintenance window the RMM System will be inaccessible.  All operations around the system including Weekly Complete Care Reporting, and Agent Data Collection will resume immediately after the maintenance window.
Expect Weekly Complete Care Reporting to be delayed and will be transmitted Sunday evening after maintenance has been completed.  RMM Agent data collection will also be delayed and the system will start processing data collected during the maintenance immediately after the services have resumed.
If you have questions, please contact the Help Desk at extension 266, or by email.