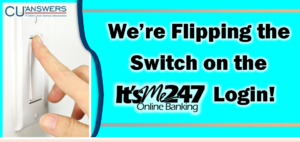 The following changes, to be implemented with the CU*BASE 18.03 Release, will likely impact formatting on your website, as well as member login experience. Be sure to visit the Kitchen and read carefully, as action will be required.
Direct Login Widget Changes
Credit unions that currently use direct login widgets may need to change formatting prior to the 18.03 release. You will need to coordinate any necessary changes with your webmaster before that date.
Password Length Requirements Changing
Also included in the 18.03 release is an update to the password length available to members. Previously, login passwords for It's Me 247 were limited to 10 characters. That number will now be increasing to a maximum of 256 characters allowed, but, anyone in the habit of typing a password of more than 10 characters may have trouble logging in on March 11.