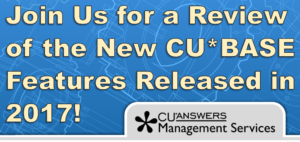 Join Keegan Daniel, Heather French, and Marsha Sapino as they review the top new features of CU*BASE that were released in 2017.  There have been many great additions to CU*BASE over the last year; the CU*Answers Management Services team will discuss these features, as well as provide guidance as to how we can help you get started with each.
Topics will include:
Updates to the Accounts Payable tools
New dashboards to review bill payment activity
Updates to the File Maintenance tools
And more!
Join us on Tuesday, February 20
10:00 AM – 11:30 AM ET
Don't forget: all CU*Answers webinars are FREE to attend!