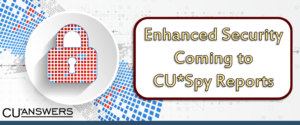 Don't Forget!  These changes will be implemented on 3/13.  Please be sure to test your connection (details below).  If you are unable to confirm that we already have your IP address via the provided link, please visit What's My IP or check with your IT staff, then contact the CU*Answers Help Desk and provide us your public IP address.
What Are We Doing?
On 3/13/2018 CU*Answers will be implementing enhanced network security for the CU*Spy reports server.  The enhanced security adds public IP address whitelisting to strengthen existing single sign on authentication from CU*BASE and to help prevent unauthorized access.
What Does This Mean?
After 3/13/2018, a combination of the single sign on from CU*BASE and your credit union's public IP address will be required to access CU*Spy Reports.  After this date, if we do not have your IP address, your branch will not be able to access CU*Spy Reports.
What Do You Have To Do?
Branches with a CU*Answers router and an internet VPN to CU*Answers (either as the backup connection or the primary connection) do not need to do anything different as we already have your IP address whitelisted.
Branches without a CU*Answers router may not yet be whitelisted.  In order to ensure your branch is properly whitelisted on our network, please have your IT person provide each branch's public IP address to our Help Desk (email the Help Desk at helpdesk@cuanswers.com).  We will create a ticket and verify when the address has been added to our system.
Click Here to Confirm Your IP Address
If you are unable to review your branch's public IP address via the button above, open a browser to the Google search engine, and search for "what is my ip".  Google will then provide your IP address information.  Please send this to the Help Desk as instructed above.  This should be done at each branch location.
We also strongly recommend the use of static public IP addresses (this is a requirement for VPN connectivity to CU*Answers).  If you are unsure if you have a static public IP address, please contact your internet service provider.
CU*Answers Network Services Complete Care clients do not need to take these steps, as we will whitelist your branches for you.
Questions?
Email the Help Desk