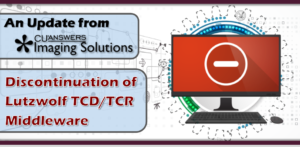 What Are We Doing?
CU*Answers is announcing the end of the sale of the Lutzwolf  TCD/TCR middleware.  We are discontinuing sales and future development efforts for the socket based version of the Lutzwolf TCD/TCR middleware currently in use effective immediately.  Glory, the author of the middleware, has discontinued any future development of the product (Socket Based Version), putting it on a path for eventual obsolescence.  This version of middleware is no longer compatible with the new versions of firmware that Glory is shipping with new machines.  Additionally, CU*Answers will end all support for this existing Lutzwolf middleware solution by 4/30/2019.
How Does This Affect Me If I Currently Utilize The Product?
CU*Answers will continue to support existing implementations of the current configuration until 4/30/2019.  If upgrades occur to required components such as Java or the hardware's firmware, the integration may stop working and the only recourse will be to roll back the updates.
What Should You Do?
Credit Unions with the existing Lutzwolf middleware solution should review their deployments and develop a plan to migrate off of Lutzwolf before April of 2019.  Presently, the best option for credit unions wishing to migrate off of the Lutzwolf product is to contact DynaCash, which is currently our only supported solution.  CU*Answers continues to evaluate and test other options.
What If I'm Looking For A New Solution?
If you are looking to purchase a new solution, we recommend you contact DynaCash to learn of their products and how they might help you.
If you have questions, please contact the Help Desk at extension 266, or by email.