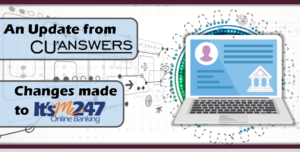 This week we implemented some minor enhancements to It's Me 247 Desktop and Mobile.  We will now be displaying up to 18 months of bill pay history online for members using It's Me 247 Bill Pay (powered by Payveris), the same as what your employees can see via CU*BASE.  We also changed the wording on some messages as explained below.
Added Disclaimer About IRA/HSA Deposits to the Transfer Wizard
Below is the updated version of the transfer message.  When transfer contributions are made to IRA or HSA accounts in online banking, the system posts them as current-year contributions.  Typically, that is what a member wants, but during the first few months of the year members might want to post something to the prior tax year before April 15.  We received an Idea Form from a credit union asking us to add a general disclaimer to explain how these normally post, so that members could stop and call the credit union if they wanted to log a prior-year contribution.
(Since It's Me 247 is not able to determine whether the transfer is to an IRA or HSA account without significant programming changes, it was necessary to create a general-purpose message that appears on all transfers.)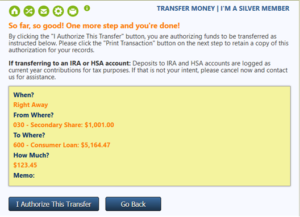 Note: Based on feedback we have received from credit unions this week, we are looking into some slightly revised verbiage and a different placement for text, which we hope will provide more clear information.  We will announce these changes before we implement them next week.
Clearer Messages When Processing Skip-Pays
Below are the updates to the skip-pay messages.  Depending on the configurations that individual members have set up for their loans, they may see the following messages if they choose to skip a payment.
ACH Message:
| | |
| --- | --- |
| Before | After |
| We see that you have an ACH distribution set up to deposit to this loan account. The next distribution will still process normally. Contact the credit union to make any adjustments to this automated payment method. | We see that you already have an incoming payroll distribution or other automated deposit set up to make payments on this loan account. The next distribution will still process normally, unless you contact us. Please contact the credit union a few business days prior to your due date and ask us to adjust your ACH distribution record. |
Payroll Message:
| | |
| --- | --- |
| Before | After |
| We see that you have a payroll distribution set up to deposit to this loan account. The next distribution will still process normally. Contact the credit union to make any adjustments to this automated payment method. | We see that you already have a payroll distribution set up to make a payment on this loan account. The next distribution will still process normally unless you contact us. Please contact the credit union a few days before your next paycheck and ask us to make adjustments to your payroll distribution record. |
AFT Will Adjust Message:
| | |
| --- | --- |
| Before | After |
| We see that you have an automatic transfer set up to make payments on this loan account. The AFT record will automatically adjust to skip this payment. | We see that you have an automatic transfer set up to make payments on this loan account. Don't worry, the system will automatically adjust so that this transfer will be skipped. After that, automated transfers will resume for your next regularly scheduled payment. |
AFT Will Not Adjust Message:
| | |
| --- | --- |
| Before | After |
| We see that you have an automatic transfer set up to make payments on this loan account. The next transfer will still process normally. Contact the credit union to adjust your AFT record. | We see that you already have an automatic transfer set up to make payments on this loan account. The next transfer will still process normally, unless you contact us. To make sure that payment transfer doesn't happen, please contact the credit union a few days prior to when that transfer normally occurs and ask us to adjust your AFT record. |