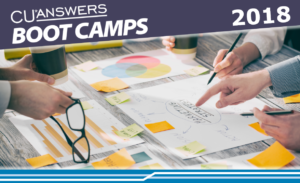 Don't miss out – there's still time to register for the 2018 Boot Camps!
Boot camps provide intensive interactions between CU*Answers designs, development, and technical leaders and credit union participants, covering subject matter at a deeper level than is typical for most education focus group sessions.
What Makes Data Valuable & Building Solutions as a Co-Op
Each Boot Camp is split into four 2-day sessions, with 1 session per quarter
You must attend all 8 days to graduate
Boot camps are work-study programs (so yes, there will be homework!)
6 new participants, and 6 Boot Camp graduates from our previous sessions will be selected for each
The deadline to submit your application is Monday, October 16!
Details for the New Developer's Help Desk Project Boot Camp are now available on the CU*Answers website!
Have a project idea?  Ready to be a general contractor?  Join us in this experiment proving how solution designers and architects can take advantage of the expertise of the designers, developers, testers, and documenters at the CUSO to produce a finished product.