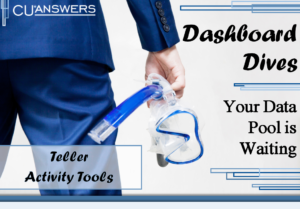 Join Keegan Daniel, VP of Professional Services at CU*Answers, for a Dashboard Dive!
These tools can be used to analyze teller activity for a certain period of time, and count audit key transactions (transactions that hit the teller drawer).  Use this dashboard to specify exactly which time blocks should be reported on the analysis, and select specific transaction types for a detailed analysis.
Tomorrow, October 12
3:00 PM – 4:00 PM ET
Don't forget: if you would like to help co-host one of our Dashboard Dive sessions, you can earn a $25 gift card!  Click here to learn more.