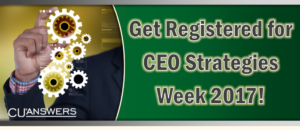 ATTENTION ONLINE AND SELF-PROCESSING CREDIT UNION CEOs
Credit Union CEOs – you're invited to this year's CEO Strategies event!  Join us for a Collaboration Workshop, CEO School, and a CEO roundtable, as well as informal networking events.
November 7 – 9
Watermark Country Club
Grand Rapids, MI
Follow the registration link below for additional information and hotel accommodations.