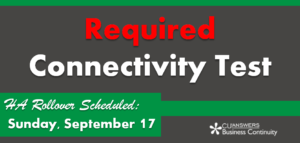 The next CU*Answers (HA) High Availability Rollover is scheduled for September 17-20.  During this rollover event, there will be an interruption lasting approximately 30-60 minutes for CU*BASE core-processing applications, including CU*Talk audio response and It's Me 247 online banking (a splash page will be presented).
As a proactive step, we are recommending that you test connectivity from your credit union's network to the HA data center prior to the rollover event.  If you have not recently tested connectivity to the HA data center from at least one GOLD workstation at each branch, please do so as soon as possible to allow time for troubleshooting if necessary.  Use the links below to complete one of both of the connectivity tests:
Please contact the CU*Answers Network Services Help Desk at helpdesk@cuanswers.com if the tests above are unsuccessful.  Failure to complete the tests may result in CU*BASE/GOLD connectivity issues on the morning following the September 17 HA rollover.
Thank you.