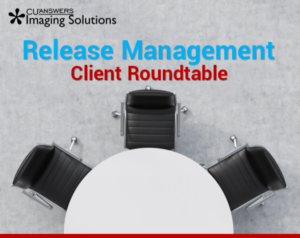 ATTENTION IMAGING SOLUTIONS RELEASE MANAGEMENT SUBSCRIBERS
Let's get together and discuss Imaging Solutions' Release Management service and all things imaging!
We'd like to extend a special welcome to all of our new subscribers!
Thursday, October 19
2:00 PM – 3:30 PM
This month's roundtable session will be offered as a webinar only.
Agenda for this roundtable session:
Discuss October release
PHP MySQL update frequency
01/18.05
Tax Statements
It's Me Signing Rooms
Reference and requested documents
Are you using eDOCSignature?  Do you have an active eStrategy and culture direction?
RDC Auto Post/Enrollment
CU*Archives
Have you performed a BC Test recently?
Are you enforcing your retention schedule?
How are Import Files working for you?
HTTPS Protocol to Imaging Servers
What's on your mind?