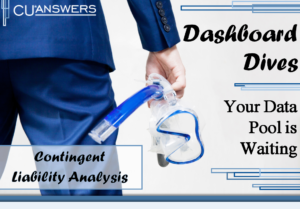 Join Keegan Daniel, VP of Professional Services at CU*Answers, for a Dashboard Dive!
The purpose of a Contingent Liability Analysis is to look at all of the places where your credit union has made a commitment to members to extend credit.  The contingent liability is the amount of the commitment that has yet to be used by the member.  After you've done the work approving loans, you just need to encourage your members to take the money!
Thursday, September 14
3:00 PM – 4:00 PM ET
Don't forget: if you would like to help co-host one of our Dashboard Dive sessions, you can earn a $25 gift card!  Click here to learn more.