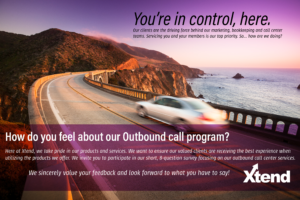 You're in control, here.
Our clients are the driving force behind our marketing, bookkeeping and call center teams.  Servicing you and your members is our top priority.  So… how are we doing?
How do you feel about our Outbound call program?
Here at Xtend, we take pride in our products and services.  We want to ensure our valued clients are receiving the best experience when utilizing the products we offer.  We invite you to participate in our short, 8-question survey focusing on our outbound call center services.
We sincerely value your feedback and look forward to what you have to say!