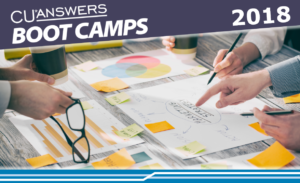 Have Questions About the 2018 Executive Boot Camps?
We will be hosting a drop-in webinar, where you can ask Boot Camp Graduates your questions.
Wednesday, October 4, 2017
3:00 PM – 4:00 PM ET
Don't have questions, just ready to apply?  Apply online at cuanswers.com/boot-camps
Details for the New Developer's Help Desk Project Boot Camp are now available on the CU*Answers website!
Have a project idea?  Ready to be a general contractor?  Join us in this experiment proving how solution designers and architects can take advantage of the expertise of the designers, developers, testers, and documenters at the CUSO to produce a finished product.