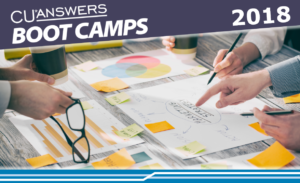 2018 Executive Boot Camps
Applications Now Open!
We're bringing back the Boot Camps! Boot Camps provide intensive interactions between CU*Answers design, development, and technical leaders and credit union participants, covering subject matter at a deeper level than is typical for most education and focus group sessions.
What Makes Data Valuable & Building Solutions as a Co-Op
Each Boot Camp is split into four 2-day sessions, 1 session per quarter
Yo must attend all 8 days to graduate
Boot camps are work-study programs (so yes, there will be homework!)
6 new participants, and 6 Boot Camp graduates from our previous sessions will be selected for each
Click here for more information
And watch for more information on a new Developer's Help Desk Project Boot Camp coming in November!