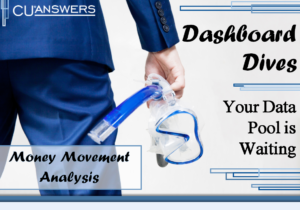 Join Keegan Daniel, VP of Professional Services at CU*Answers, for a Dashboard Dive!
The Money Movement Analysis tool allows you to quickly compare account status for any group of members or accounts, from any point in time to another, highlighting the members who need your attention most.  Simply ask CU*BASE to identify all members where the Money Market relationship was significantly different, and you instantly have a member contact list that identifies the member relationships you need to rebuild, or reach out to with a message of appreciation.
Thursday, August 17
3:00 PM – 4:00 PM ET
Don't forget: if you would like to help co-host one of our Dashboard Dive sessions, you can earn a $25 gift card!  Click here to learn more.