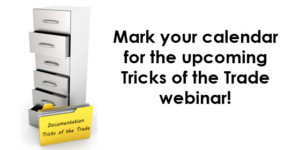 Scheduled for Tuesday, August 15 from 3:30-4:00 PM ET, the interactive and engaging August Tricks of the Trade webinar will give you an in-depth look at documentation about the Membership Opening (MOP).  Learn detailed information about MOP (Experian Precise ID Verification page, Membership Complete page, Funding page, Online Banking Enrollment page, and Funding Options page).
Attending is easy! No registration is required for this drop-in webinar. Simply join the webinar a few minutes before it begins and enter this password: tricks.
To get an in-depth look at documentation discussed in the webinar as well as other documentation on related topics, check out the August Tricks of the Trade newsletter.
Click here to peruse previous Tricks of the Trade newsletters and to see the dates and times for upcoming webinars.