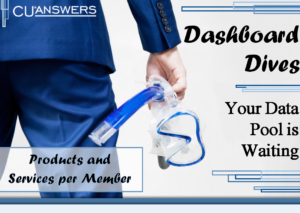 Join Keegan Daniel, VP of Professional Services at CU*Answers, for a Dashboard Dive!
This dashboard allows you to track historical trends for Products per Member and Services per Member.  Compare the average of Products per Member over a designated period of time, for new members and long-term members.  You can also use this to gauge cross-sale prowess, or compare Products and Services per Member from one branch location to another.
Tomorrow, August 10
3:00 PM – 4:00 PM ET
Don't forget: if you would like to help co-host one of our Dashboard Dive sessions, you can earn a $25 gift card!  Click here to learn more.