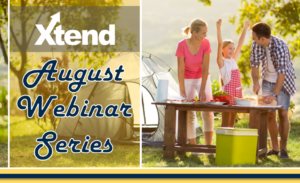 Coming Up This Week!
Each month, Xtend offers FREE webinars focused on lending, marketing, and member service; these engaging webinars provide credit unions with helpful products, services, and industry tips to give them the leading edge.
Wednesday, August 9
2:00 PM – 2:30 PM ET
RevGen – Drive Leads into Your Lending Pipeline
RevGen capitalizes on the tricks of the trade we have learned through several years of executing effective lending campaigns.  Engage in a series of targeted, turn-key, lending-centric marketing campaigns that leverage the concept of targeting and segmentation, along with Xtend resources.  We combine our target-marketing best practices with multiple channels to drive loan leads to your loan officers.  In short, we provide a cost-effective "Xtension" of your marketing and lending team.
Join us to learn how RevGen provides you with up to 6 marketing campaigns at one flat rate, and you can pick and choose the campaigns you want to participate in!
Thursday, August 10
11:00 AM – 12:00 PM ET
88% of consumers say that rewards are a top priority for their banking relationship, yet fewer than half of institutions offer a debit card rewards program, and most that do lack ongoing support or actionable insights to ensure the program is successful.
Join us to learn how Buzz Points drives revenue and retention for credit unions through an innovative rewards platform and data-driven local marketing.  Buzz Points gives credit unions a premium program with an industry-leading cost structure.