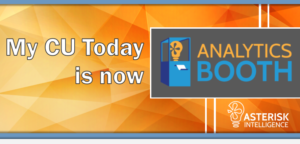 The Asterisk Intelligence Team at CU*Answers completes re-branding of My CU Today to Analytics Booth!
Welcome to Analytics Booth!  Formerly known as My CU Today, Analytics Booth allows you to understand your credit union better than ever before, with the ability to track and trend 70+ data points across balances, transactions, and member activity.  These include:
How many members sign up each day
Average checking account balances over a specific period of time
Which branches have the most member activity
And much more!
If you previously used My CU Today, there is no action required on your part – all of your login information will remain the same.  Users should be aware, however, that the 'PLUS' button has now been changed to 'DASHBOARDS'.
Contact ai@cuanswers.com with any questions or feedback on the new look of Analytics Booth.
Haven't taken advantage of this product yet?  Check us out on the CU*Answers Store.