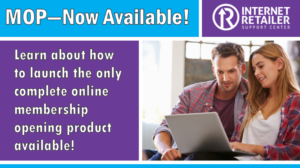 With the Membership Opening Process (MOP), your credit union can provide an outlet for potential members to open their membership online, all through one site.  Learn how your credit union can launch not only one, but multiple MOP sites!
MOP includes:
Promotions/Branding
Verification
Account Creation
Funding
Online Banking Enrollment
Join us on Wednesday, August 2
11:00 AM – 12:00 PM ET
or
Monday, August 7
2:00 PM – 3:00 PM ET
(After the link directs you to the website, select your desired date and time from the drop-down box.)
Check out MOP in the IRSC Online Store
Missed the most recent webinar?  You can view a recorded video of it here.