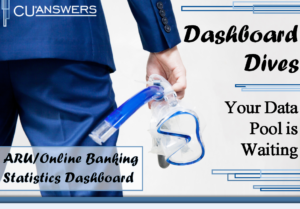 Join Keegan Daniel, VP of Professional Services at CU*Answers, for a Dashboard Dive!
With the ARU/Online Banking Statistics Dashboard, you can view usage statistics to gauge member participation in CU*Talk Audio Response Banking, Member Text Banking, and Online and Mobile Web Banking.  View the number of members using these services, average login/call activity, frequency of use of these services by members, and more.
Thursday, July 20
3:00 PM – 4:00 PM ET
Don't forget: if you would like to help co-host one of our Dashboard Dive sessions, you can earn a $25 gift card!  Click here to learn more.