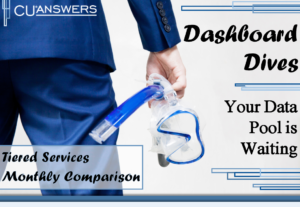 Join Keegan Daniel, VP of Professional Services at CU*Answers, for a Dashboard Dive!
With the CU*BASE Tiered Services program, you can compare scores from multiple months side-by-side, giving you an excellent way to track progress of your Tiered Services and how they are motivating members to participate.  You can even 'drill down' to see more about the members in each group, export the account numbers directly to a file, and communicate with members on the spot through Member Connect.
Tomorrow, July 13
3:00 PM – 4:00 PM ET
Don't forget: if you would like to help co-host one of our Dashboard Dive sessions, you can earn a $25 gift card!  Click here to learn more.