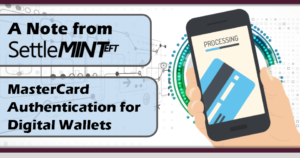 We have been notified of a new process for MasterCard called Step-up Authentication for Google (Android Pay), Apple Pay, and Samsung Pay.  This process involves a series of messages that are used to communicate authentication codes between MasterCard and your vendor.  MasterCard will pass a message to a member using their email or cell phone, and will require the member to enter the information when using one of these services.
This authentication process is currently optional for Samsung Pay and Apple Pay users.  However, effective September 30, 2017, Google will be requiring this feature to be implemented for all Android Pay users.  Most EFT vendors (switches) informed CU*Answers they will be handling this service by reaching out to members via email and/or cell phone without involving the CORE.
Elan recently informed CU*Answers that they will be requiring the CORE to handle these communications.  CU*Answers will not be assuming the responsibility to perform sending authentication messages to your members who use these particular products.  At this time, all switches except for Elan will be managing this process directly for their credit unions.