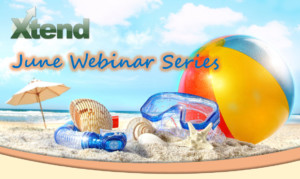 Coming Up This Week!
Each month, Xtend offers FREE webinars focused on lending, marketing, and member service; these engaging webinars provide credit unions with helpful products, services, and industry tips to give them the leading edge.
Wednesday, June 14
11:00 AM – 12:00 PM ET
RevGen – Drive Leads into Your Lending Pipeline
Our CUSO is constantly looking for ways to help drive more activity to your lending pipeline. RevGen capitalizes on the tricks of the trade we have learned through several years of executing effective lending campaigns. Engage in a series of targeted, turn-key, lending-centric marketing campaigns that leverage the concept of targeting and segmentation, along with Xtend resources. We combine our target-marketing best practices along with multiple marketing channels to drive loan leads to your loan officers. In short, we provide a cost-effective "Xtension" of your marketing and lending team.
Join us to learn how with RevGen you receive up to 6 marketing campaigns at one flat rate and you can pick-and choose the campaigns you want to participate in!
Thursday, June 15
11:00 AM – 12:00 PM ET
Ever wish you had an automated email sent to each new member when they join your credit union? What about an email to all members without a checking account with your credit union?
Join us as we take a deep dive into the details of the member reach program. This webinar is geared toward current member each client who would like to learn more about the program or brush up on their member each education.