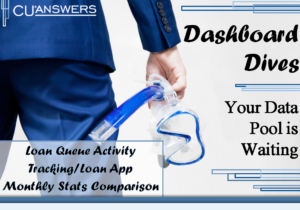 Join Keegan Daniel, VP of Professional Services at CU*Answers, for a Dashboard Dive!
This 'Statistical Dashboard' for Loan Department Activity provides a view of your lending team's output at any time during the month.  It can help you to determine the total number of applicants by delivery channel, total applications that are pending, denied, closed or withdrawn at the end of the month and the dollar amounts associated with each, as well as the number of days between application to approval, and more.
Tomorrow, June 15
3:00 PM – 4:00 PM ET
Don't forget: if you would like to help co-host one of our Dashboard Dive sessions, you can earn a $25 gift card!  Click here to learn more.