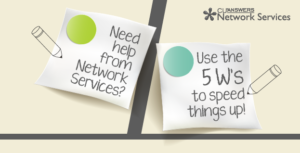 Need help from the CU*Answers Network Services team?
Use the 5 W's To Help Network Services Help You!
Launching a new product, service, or initiative? Have an issue that requires assistance? Help us help you! Whether it's making sure the right people have access to the appropriate resources or ensuring teams can connect to the new services you're activating, Network Services is here to help! No matter how you're requesting assistance, be it through Latitude, an online contact form, or email (helpdesk@cuanswers.com), use the 5 W's to make the process go more smoothly and quickly!