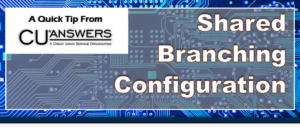 Want More National (Co-Op) Shared Branching Control?  You've Already Got It!
Last year, the 16.10 CU*BASE release introduced new features that allow for more control over your member's National (Co-Op) Shared Branching activity, including deposit/withdrawal limits, and a new member activation waiting period!
Want to limit potential high dollar fraud? Simply choose the amount and number of transactions members are allowed daily via shared branching.
Want to vet new members before allowing them to use shared branching locations? CU*BASE can do that! You can block new members from using shared branching anywhere from 1-99 days.
Check out the Online Help explanation of these features for further details, and contact a representative today to tailor your configuration just for you.
Xtend Shared Branching Participants:
Although these restrictions aren't applied automatically for Xtend Shared Branching users, you are still able to control a member's access to shared branching services by manually setting the "Allow Shared Branch Transactions" flag in Tool #20 Update Membership Information.