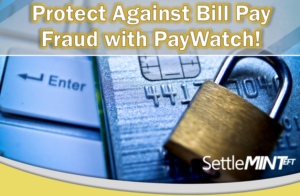 CU*Answers has partnered with Payveris to launch the PayWatch fraud prevention tool for all Payveris credit unions who are currently not using this service.  This service will be provided by Payversis and supported by the SettleMINT EFT team for your credit union for a period of 90 days, FREE of charge!
The SettleMINT team will be reaching out to each credit union to gather information and provide details on how this process will work during this timeframe.
The SettleMINT EFT team will be responsible for monitoring the PayWatch queue daily.  The PayWatch program will monitor activity hourly, and will update the PayWatch queue for our review.