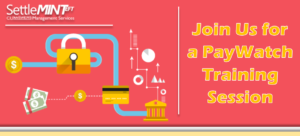 ATTENTION PAYWATCH CLIENTS
Please join us for additional training on PayWatch, the Payveris Fraud Monitoring Tool!
The CU*Answers SettleMINT EFT team will be hosting two PayWatch training sessions, where we will review the differences between 01 and 02 Rule Priorities, and discuss how each should be decisioned.  We will also provide helpful tips and recommendations for best practices going forward.
Tuesday, May 23
1:00 PM – 2:00 PM ET
Friday, May 26
2:00 PM – 3:00 PM ET