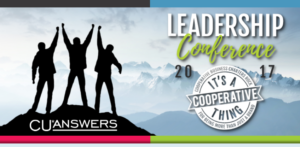 It's a Cooperative Thing
Cooperative Business Charters Rock for Being More than Just a Brand
Being a cooperative is as much a way of being as a state of mind. It's an environment that fosters teamwork and collaboration as well as a commitment to self. You are an "owner" of your credit union. You have a direct say on the direction your credit union is going to take. How do you pay your customer-owners, drive for great prices, and take the lead?
Join us for this year's Leadership Conference, where CEOs and senior leaders from all CU*BASE credit unions will go in depth on what it means to be a cooperative.
The CU*Answers 2017 Leadership Conference will run from Tuesday, June 20 through Thursday, June 22.
(Deadline for registration is June 9).
This year's Leadership Conference will once again be held at the J.W. Marriott in Grand Rapids, Michigan.  For additional information, including the event schedule and brochure, please visit the CU*Answers website.