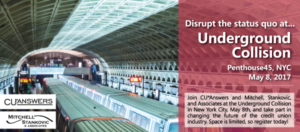 Join CU*Answers and Mitchell, Stankovic, and Associates at UNDERGROUND Collision on May 8th in New York City
You're invited to attend this exclusive event in NYC during which Randy Karnes and other industry experts will discuss challenging issues and push for real action to create radical change. Join the conversation at Penthouse 45 in New York City on May 8th from 10 am – 2 pm ET.
Space is limited, so register today. We look forward to seeing you in New York City! Pass this invitation along to any colleagues who are interested in discussing the critical topics that will affect the future of the credit union industry.
Agenda
Innovation versus "Only if I Win" Collaboration
(Randy Karnes, Sarah Canepa Bang, and Kathryn Davis)
Big Getting Bigger, Small CUs Might Be the Giants
(Jill Nowacki, Diana Dykstra, and Tyler Valentine)
Celebration, Disruption or Extinction
(Steve Sapp, Frank Diekmann, Ronaldo Hardy)
Speed Dating Knowledge Cafes
(Michelle Shelton, Michael Maxwell, John Fairles, Sarah Cooke, Susan Mitchell, and Chris Chippindale)
Help us disrupt the status quo!
For more information, contact Esteban Camargo
(616-285-5711 x281 | ecamargo@cuanswers.com)