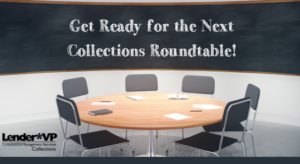 Pull Up a Chair, the Roundtable is Waiting!
Join us for the FREE Collections Roundtable, an open forum discussion on collections laws, internal procedures, and CU*BASE processes. Join us for the second session of the 2017 Collections Roundtable Series, for whichever session you'd like – or both!
This month's Collections Roundtable will feature guest speaker attorney John Butler of Butler, Butler, Butler-Oberle, who specializes in bankruptcy, foreclosures, and mortgages.  He will be ready to answer any of your general questions and discuss concerns and trends of late.
Wednesday, May 17
Morning Session: 9:30 AM – 12:00 PM ET
Afternoon Session: 1:30 – 4:00 PM ET
*Please select your desired Roundtable session time from the drop-down tab on our website when the links above direct you to the registration page.