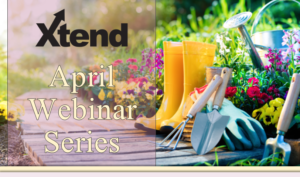 Coming Up This Week!
Each month, Xtend offers FREE webinars focused on lending, marketing, and member service; these engaging webinars provide credit unions with helpful products, services, and industry tips to give them the leading edge.
Tuesday, April 18
2:00 PM – 3:00 PM ET
Contact Center Service – Strengthen Relationships One Conversion at a Time
Partnering with the Xtension Contact Center can allow you to Xtend your member support hours, add service capabilities without adding brick & mortar, and provide effective support for your growing list of electronic services.
Put the Xtension Contact Center to work for you. Please join us on April 18 to learn how Xtend can be there for your members via:
Branch XT – Inbound phone support for member service support and expansion
Live Chat – Launch online member support via chat!
XT Direct – Inbound phone line dedicated to starting Loan Applications with members
Wednesday, April 19
11:00 AM – 12:00 PM ET
Ever wish you had an automated email sent to each new member when they join your credit union? What about an email to all members without a checking account with your credit union?
Join us as we take a deep dive into the details of the Member Reach program. This webinar is geared toward current Member Reach clients who would like to learn more about the program or brush up on their member each education.
Thursday, April 20
11:00 AM – 12:00 PM ET
Outbound Support – An Xtend Contact Center Service
Let Xtend help you establish ongoing relationships with your members, and drive more sales into your branches. Our outbound team keeps the relationship fresh and hopes to instill the feeling of importance and value in your member as we perform targeted outbound calls based on a pre-defined schedule. We also offer outbound campaign assistance for those special promotions or announcements that you need to communicate to your members.