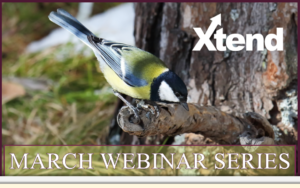 Coming Up This Week!
Each month, Xtend offers FREE webinars focused on lending, marketing, and member service; these engaging webinars provide credit unions with helpful products, services, and industry tips to give them the leading edge.
Tuesday, March 21
2:00 PM – 3:00 PM ET
RevelTV is a Digital Signage Agency.  With their unique Channel Valet service, RevelTV's experienced technical and creative teams provide the easiest, most cost-effective digital signage solution available anywhere.
Wednesday, March 22
11:00 AM – 12:00 PM ET
RevGen – Drive Leads into Your Lending Pipeline
RevGen capitalizes on the tricks of the trade we have learned through several years of executing effective lending campaigns. Engage in a series of targeted, turn-key, lending-centric marketing campaigns that leverage the concept of targeting and segmentation, along with Xtend resources. We combine our target-marketing best practices along with multiple marketing channels to drive loan leads to your loan officers. In short, we provide a cost-effective "Xtension" of your marketing and lending team.
Thursday, March 23
11:00 AM – 12:00 PM ET
Yak Tracker – Creating More Loan Leads for Your Credit Union
Contrary to popular belief, social media is about a lot more that "likes", retweets and warm and fuzzy feelings. Join Chatter Yak! To learn how your credit union can turn your "likes" into new loans and memberships increasing your bottom line and justifying the time and money your credit union spends on social channels.