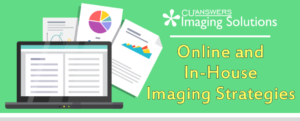 The CU*Answers Imaging Solutions Team has crafted solutions to fit the needs of your credit union's core processing tools and make imaging strategies at any level an integral part of your day-to-day operations.
Online Imaging Strategy
Not yet using an Imaging Solutions Strategy, but looking to get started?  Our online strategy is a hosted solution that does not require a server at your location.  We take ownership of server maintenance patches and upgrades, physical security, disaster recovery, security from electronic threats, and more, so that you can focus on your members.
Enhanced Online Imaging Strategy
Looking to do more?  Take it to the next level with our Enhanced Online Strategy!  This option allows your credit union a greater degree of freedom with loan and membership documents, while keeping upfront costs down.
In-House Imaging Strategy
Ready for the ultimate option in flexibility?  Our In-House Strategy allows you to set the rules for document types, retentions schedules, and more.  The In-House Strategy puts greater responsibility on your credit union, while offering you increased capabilities to take your imaging strategy to the next level.
Learn More About Our Imaging Solution Options
Already using our In-House Strategy?  Contact the Imaging Solutions Team to find out how products like Remote Deposit Capture (RDC) and Native eDoc Signature can supplement your current strategy.