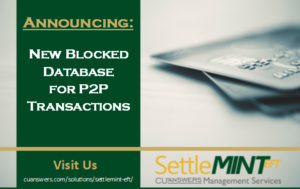 CU*Answers is pleased to offer a Blocked Database for Payveris P2P transactions!  This database will be referenced each time a member schedules a P2P transaction.  If sender/recipient information matches data from confirmed P2P fraud, the member will be presented with an error message and the P2P transaction will be stopped. If a member receives an error code, they will be instructed to contact their credit union, at which time SettleMINT can assist your staff with determining what information blocked the transaction. A sample version of the error code is as follows:
Your payment cannot be processed at this time. Please contact your credit union and reference the following error code: XX-XXX.
The Blocked Database will continue to grow to protect members, as the SettleMINT EFT team will be managing the addition of applicable email addresses, phone numbers, and IP addresses when P2P fraud is confirmed.
Please visit the Kitchen page for more information, or reach out to the SettleMINT EFT team with any questions or concerns.