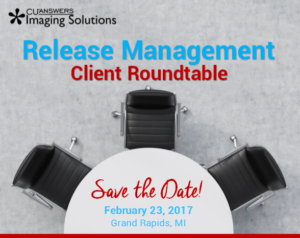 ATTENTION: Imaging Solutions Release Management Subscribers
Let's get together and discuss Imaging Solutions' Release Management service and all things imaging!
Don't forget to sign up with the link below!  We strongly encourage those in the local area to attend this roundtable event in person.
Thursday, February 23
9 AM – 3 PM
CU*Answers
6000 28th St SE, Grand Rapids MI 49546
This is an in-person event, however, a web conference has been arranged to include participants that are unable to travel. Please register whether you plan to attend in person or via web. After registering, you will receive a confirmation email containing information about joining the web conference.