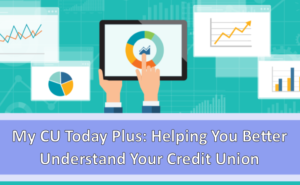 Today's credit union executives demand flexibility, security and peace of mind over what is happening at their credit unions.
My CU Today Plus helps your credit union to mine, track, analyze, and report information anytime and anywhere.  We are offering a web conference series to help you explore the ways in which you can utilize your My CU Today Plus external data warehouse.  Each conference will last approximately 30 minutes, and is free to attend.
Join Keegan Daniel, VP of Professional Services at CU*Answers, Earnings Edge, and Josh Peacock, Assistant Manager of Analytics, as they explain how to use My CU Today to track GL 3-Year Account Balance Comparisons, as well as how to get a big-picture view with 10 Year trends to view Budget Groups, check end-of-month balances, and more!
Join us on Friday, February 22
4:00 PM ET