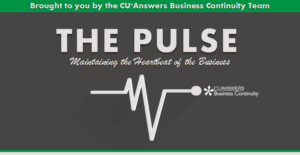 HA Rollover Results Now Available
Rollover: December 10 – 18
Now available for your review is a summary of the unscheduled HA (high-availability) rollover, performed December 10 – 18.  In the report, you will find details about the exercise, including challenges observed, lessons learned, and recommendations for improving the rollover process.
View additional HA Rollover, and other recovery reports
This HA rollover was completed during the early morning hours of December 10 as a precautionary measure in response to system log entries pointing to a potential server performance degradation.  As a result, support teams were provided the time required to properly diagnose and correct the issue without incurring additional downtime. The ability to respond quickly and effectively with minimal impact is the direct result of a rigorous testing program. This begins with a comprehensive Business Continuity Plan backed by a well-trained team.
Learn More
At CU*Answers, we adhere to business continuity principles aligned with industry standards and guidelines to help manage the potential risk of disruption to CU*BASE products and services. Those same resources are available to your credit union to assist in developing and testing your recovery plan and in preparing for your next IT audit and examination. For questions about services available to help you develop and test a recovery plan for your credit union, contact Jim Lawrence CBCP, Manager of CU*Answers Business Continuity and Recovery Services.