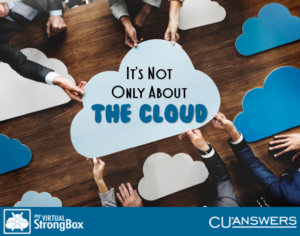 It's About Investing in Your Future!
And we are making that investment; if your credit union signs up before January 31, 2017, My Virtual StrongBox will pay a portion of your cost for Premium packages! This means you get…
$1000 implementation fee (a savings of $2000)
$300 a month for license/storage (a savings of $1200 per year)
Plus, Standard Edition is still free!
But Why My Virtual StrongBox?
It's more than storage for member's critical documents. It's more than a temporary drop box for receipts and forms from the credit union to the member. My Virtual StrongBox is the future for how your credit union will work online with your members!
"I cannot stress enough the importance of credit unions building DOCUMENT EXCHANGE and CLOUD Delivery Channels, Virtual Closing Rooms, and Corporate Image Movement Capabilities for the future.  NOW is the time to get started and learn your skills.  We want to invest in each of you as a practicing, learning organization. What more do you need to move forward?" – Randy Karnes
(don't forget to select Premium Edition!)
Want More Information?
Join Julie Gessner from CU*Answers and Sam Smith from My Virtual StrongBox for an informational webinar on Wednesday, January 11 from 2 – 3 PM ET.