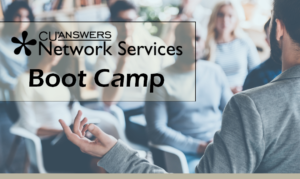 Mark your calendars!  The next Boot Camp from CU*Answers Network Services will be hosted on Wednesday, March 29 and Thursday, March 30 at our 28th Street location.
Our Boot Camps offer immersive interactions between design, development, and technical leaders with credit union participants, covering subject matter at a deeper level than is typical for most education and focus group sessions.  Whether you are a returning participant or a newcomer to the Boot Camp series, we will be offering new and exciting courses that will help engage you as owners.
Registration will open on Wednesday, February 1, and will be limited to the first 30 people who sign up – don't miss out!
Additional information, including a full schedule, will be posted to our website soon, and will be made available here.