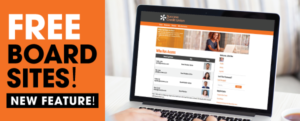 Keep Your Board On Board!
The board sites from CU*Answers allow you to share digital documents for your board meetings, create a rolling calendar for your upcoming meetings and connect to your board members.
NEW FEATURE!
CU*Answers has added a "Who Has Access" page to board sites! 
You will now be able to view and audit who has access to your board site with this great new tool.  Take advantage of this year-end opportunity!
CU*Answers offers a free board site to all of their credit union clients.